Contract Manufacturing of Drinks
When it comes to contract manufacturing a variety of drinks using ingredients that match the latest health trends, leave it to API. As a dietary supplement OEM maker, API has the technologies and services to get the job done.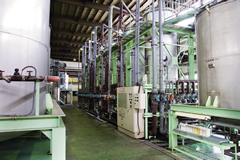 Filters and Extractors
With state-of-the-art processing equipment such as ultrafine filter presses, API creates original drink ingredients. We use processed propolis and royal jelly extracts to make health foods and soft drinks.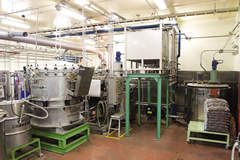 Top Ranking Ingredient Supplier
In addition to manufacturing industrial honey, we refine and filter imported honey, juices and teas and supply them as ingredients to the major beverage makers. In 1968 we began using a device to refine honey with the ion-exchange resin method, a revolutionary way to remove odors, colors, and proteins. This is now a fundamental element in our sanitary automated plant where we conduct deproteinizing. Our technology has been highly praised for retaining the original flavor and nutrients of the honey we process, and have now become a top ranking ingredient supplier for the major beverage makers.